Blueberry Sour Cream Pancakes
Blueberry Sour Cream Pancakes are a nice change from the ordinary.
1 1/2 c. flour
1/2 tsp. baking soda
1 tsp. salt
1 tbsp. sugar
1/4 tsp. nutmeg
1 egg, beaten
1 c. sour cream
1 c. whole milk
1 c. fresh blueberries
Stir dry ingredients together. Combine egg, sour cream, and milk. Add to dry ingredients, stirring just to combine. Add the berries, stirring just enough to mix in. Drop by 1/4 cup onto hot greased griddle. Cook until surface is covered with bubbles. Turn and cook until other side is well browned. Makes 18 pancakes.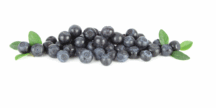 Return to Blueberry Pancake recipe index from Blueberry Sour Cream Pancakes