Warm and Delicious
Blueberry Pie Recipes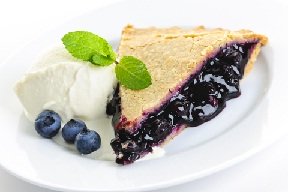 There's nothing more delicious than fresh baked blueberry pie. It has been a staple of life for many, many years. I can't think a better way to end a summer day than with a slice of warm pie and a scoop of cool vanilla ice cream.

Over the years I have collected several pie recipes. Some may seem similar but, if you look closely, they have slight variations. I have also included no-bake recipes so you won't "heat up" the kitchen on hot summer days! I hope you have fun trying each one and choosing your favorite to share with friends and family.

Listed below you will find everything from the basic pie recipe to some a bit more complicated but worth the effort.

---
Best Blueberry Pie Recipe

Lemon Blueberry Pie Recipe

Delicious Sour Cream Blueberry Pie

Cookie Crust Blueberry Pie

Red White and Blueberry Pie

Rhubarb Blueberry Pie

Old Fashioned Blueberry Pie

Finnish Blueberry Squares