Delicious Blueberry Cobbler Recipes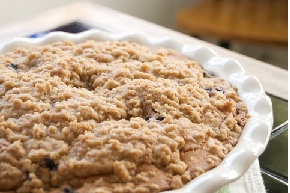 What is Blueberry Cobbler? It is a traditional American baked dessert. It consists of a filling which is placed in a large baking dish or several small individual dishes. It is then covered by a layer of pastry as a crust. The result is then baked.


Cobblers are generally filled with fresh fruit, most commonly apples, peaches, blueberries and cherries. A cobbler is similar to a pie, but lacks the bottom crust. Sometimes the top crust can be a single piece of pastry or a pastry crumble. Either way, it is always delicious served warm from the oven with a scoop of vanilla ice cream!


We have collected several different Blueberry Cobbler recipes. We hope you enjoy each and every bite!
---
The Best Blueberry Cobbler

Lemon Blueberry Cobbler

Peach Blueberry Cobbler

Apple Blueberry Cobbler



1-Stop-Cooking-Recipes:
Looking For Dessert Recipes That Will Have Your Guests Coming Back for More and More!


Return to Blueberry Home Page from Blueberry Cobbler page