Make Breakfast Extra Special - Blueberry Pancake Recipes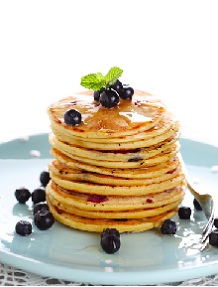 I learned there are many different ways to make a blueberry pancake. I have collected recipes that include ingredients like sour cream, corn meal, buttermilk, lemon peel and, of course, blueberries.

Whatever the ingredients, I'm sure you will find a recipe your family will enjoy. I have also included a few blueberry syrup recipes to dress up the standard pancake.

Fun Facts: A pancake is typically a thin, flat cake, made of batter and baked on a griddle or fried in a pan, the pancake has a very long history and featured in cookbooks as far back as 1439. German and French pancakes, leavened by eggs and a lot of beating, are baked very thin and served with sweet fillings. The French pancake, the crêpe, is thin and crispy and filled with delicious sweet fillings.
---
Best Blueberry Pancakes

Buttermilk Blueberry Pancakes

Light and Fluffy Blueberry Pancake

Blueberry Pancake Wedges

Blueberry Corn Pancakes

Blueberry Sour Cream Pancakes

Oatmeal Blueberry Pancakes

Whole Wheat Blueberry Pancakes with Yogurt Sauce

Blueberry Syrup & Sauce Recipes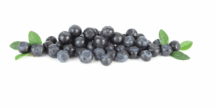 Return to main Blueberry Recipe home from Blueberry Pancake