Blueberry Jam Recipe Collection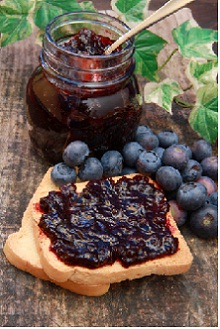 Our blueberry jam recipe collection contains tasty jams and jellies to satisfy your cravings.

Jam has been around since before Roman times. There is evidence that even before Roman times, the Persians were preserving fruits such as the medlar, to provide valuable vitamins to their diet year round. The first preserves were made using honey as a preserver but later sugar came to be used more regularly.The world's first known book of recipes, Of Culinary Matters, written by Marcus Gavius Apicius, of Rome, in the first century, includes recipes for fruit preserves.

In the United States, early New England settlers preserved fruits and berries with honey, molasses or maple sugar. Pectin extracted from apple parings was used to thicken jellies.

Jelly is more popular among kids, while preserves are favored by adults. In fact, the average child will eat 1,500 peanut butter and jelly sandwiches by high school graduation.

Blueberry jellies and jams are easy to prepare and make great gifts. Try one of our recipes today!
---
Fresh Blueberry Jam

Basic Blueberry Jam

Blueberry Raspberry Jam

Blueberry Strawberry Jam

Grandma's Blueberry Peach Jam

Easy Blueberry Peach Jam

Spiced Blueberry Jam

Blueberry Marmalade

No Cook Blueberry Jam

Sugar Free Blueberry Jam (Refrigerator Jam)

Easy Blueberry Jelly

Blueberry Apple Jelly

Blueberry Mint Jelly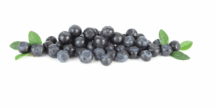 Return to Blueberry- Recipe home page from Blueberry Jam Recipe