Blueberry Streusel Muffin - Voted #1
Old Fashioned Blueberry Streusel MuffinThis recipe has been voted the absolute best! It's the streusel topping that makes it extra special.
1 cup milk
1/4 cup vegetable oil
1/2 teaspoon vanilla
1 egg
2 cups all-purpose flour
1/3 cup sugar
3 teaspoons baking powder
1/2 teaspoon salt
1 cup fresh blueberries or 3/4 cup frozen (thawed and drained)
Heat oven to 400°. Prepare struesel topping (listed below). Grease the bottoms of 12 medium muffin cups or insert paper muffin cups. Beat milk, oil, vanilla, and egg. Stir in flour, sugar, baking powder, and salt and mix just until flour is moist. Batter will be lumpy. Fold in blueberries. Divide evenly among muffin cups. Sprinkle with 2 teaspoons of the streusel topping and bake 20 - 25 minutes until golden brown. Makes 12 muffins.
Streusel Topping
1/4 cup all purpose flour
2 tablespoons packed brown sugar
2 tablespoons firm butter or margarine1/4 teaspoon ground cinnamon
Mix all ingredients until crumbly.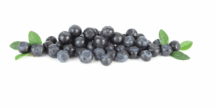 Return to Blueberry Muffin Recipe page from Blueberry Streusel Muffin