Lemon Blueberry Pie
Mmmm... Lemons and blueberries. The perfect match for this tasty Lemon Blueberry Pie recipe. I think it's the lemon pastry that makes this one extra special!


Pastry:
2 cups sifted all-purpose flour
1 teaspoon salt
1/2 teaspoon grated lemon peel
2/3 cup shortening, cold
4 + tablespoons ice cold water
1 tablespoon cold lemon juice
Pie Filling:
1 1/4 cup sugar
1/3 cup all-purpose flour
1/4 teaspoon salt
1/2 teaspoon ground cinnamon
2 tablespoons lemon juice
2 teaspoons grated lemon zest
5 cups fresh or frozen thawed blueberries, rinsed well

Directions:

Pie Pastry:
Sift together flour and salt; blend in lemon peel. With a pastry blender, cut in shortening until pieces are the size of small peas. Mix together 4 tablespoons of the water and the lemon juice. Sprinkle 4 tablespoons of lemon water over the dry ingredients; mix lightly, adding just enough additional cold water to hold dough together. Divide dough into 2 portions and shape each portion into a ball. Flatten pastry balls 1 at a time, on lightly floured surface. Roll out to form a circle, rolling from center edge until dough is 1/8-inch thick.

Pie Filling:
In a large bowl combine sugar, flour, salt, cinnamon, lemon juice and grated peel, and blueberries. Roll out half of the pastry (recipe follows) - line a 9-inch pie pan and trim edges. Pour blueberry mixture into pie crust.

Roll out remaining pastry to about 1/8 inch thick. Cover pie; trim, turn edge under and crimp. Cut a few vents in top of crust to allow steam to escape. Bake at 425° for 40 minutes, or until crust is nicely browned.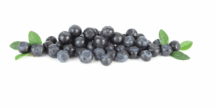 Return to Blueberry Pie index page from Lemon Blueberry Pie recipe