Yummy Almond Blueberry Biscotti
Almond Blueberry Biscotti - perfect for Sunday brunch!
2 1/2 cups all-purpose flour
1 1/4-cup sugar
1-teaspoon baking powder
3 large eggs (if mixture is too dry try adding extra egg whites)2 egg yolks
1 teaspoon vanilla flavoring
1 teaspoon almond flavoring
1 1/2 cup slivered almonds (reserve 1/4 cup)
3/4 cup dried blueberries
zest of one lemon or lime
DIRECTIONS:
Preheat oven to 275 degrees. Grease cookie sheet. Sift together flour, sugar and baking powder in a large mixing bowl. In another large bowl mix eggs and egg yolks together. Add vanilla, almond flavoring and 1-1/4 cup of the nuts, berries and the zest to the eggs. Gradually add the dry mixture to the wet mixture, stirring until just barely blended. You will have to use your hands and perhaps add more egg whites, or bit more flour and sugar if the mixture is too sticky to form.
Grease a large, heavy cookie sheet. Using greased hands, form dough into three 4-inch by 9-inch rolls that are 2 inches thick. Mixture will be sticky and you will have to use your hands. Using a greased spatula, gently place the "rolls" on greased cookie sheet, making sure the rolls are several inches apart. Press reserved almonds on top of the shaped dough.
Bake 20 to 25 minutes or until the dough will hold together. Remove from oven and cool slightly. When cooled slightly, gently slide the rolls to a floured cutting board and gently cut through each roll at an angle into 1-1/2-inch pieces. Turn each piece on its side and place on the cookie sheet.
Bake again for 10 to 15 minutes. Remove from oven and turn each piece onto it's other side to cool. If you prefer harder biscotti, turn biscotti and bake for 5-10 more minutes.
The biscotti will keep for several weeks if stored in an airtight container. Makes 36 to 40 Biscotti.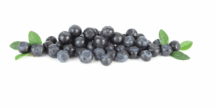 Return to Blueberry Scones & Biscotti index from Almond Blueberry Biscotti