Apple Blueberry Muffin Recipe
What a delicious combination - Apple Blueberry Muffin recipe.
1 egg
1 cup buttermilk
1/4 cup salad oil
2 cup flour
1/4 cup sugar
1/8 cup packed brown sugar
1/2 tsp. soda
2 tsp. baking powder
1 tsp. salt
3/4 c. blueberries, well drained
3/4 c. apples, chopped small

Heat oven to 375 degrees. Grease 12 muffin cups. Beat egg, stir in buttermilk, oil and apple. Mix all dry ingredients until flour is moistened. Batter should be lumpy. Add the berries. Fill cups 2/3 full.

NUT - CRUNCH TOPPING:
1/3 c. chopped nuts (pecans are perfect)
1/2 tsp. cinnamon
2 tbsp. butter

Mix together and sprinkle on top of muffins. Bake 30-35 minutes. Makes 12.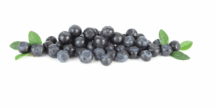 Return to Blueberry Muffin recipe index from Apple Blueberry Muffin Recipe