No-bake Banana Blueberry Cheesecake
Banana blueberry cheesecake. Two delicious flavors in one desert!
2 baked pie shells
4 bananas
1 (8 oz.) softened cream cheese
1/4 c. sugar
2 env. Dream Whip (made up or 1 lg. Cool Whip and no sugar)
1 can blueberry pie filling

Slice bananas to cover bottom of pie shells. Mix cream cheese and sugar. Blend prepared Dream Whip into cheese mixture. Put mixture into pie shells. Top with pie filling. Chill and keep refrigerated.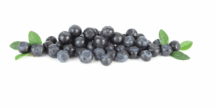 Return to Blueberry Cheesecake index from Banana Blueberry Cheesecake