Banana Blueberry Streusel Muffin
Wow, you will want to try this banana blueberry streusel muffin recipe! It is "over the top"!

1/2 cup butter, softened
1/2 cup firmly packed brown sugar
1 1/2 cup (3 lg.) mashed very ripe bananas
1/4 cup milk
1 tsp. vanilla
2 eggs
2 cup all purpose or unbleached flour
1 tsp. baking powder
1 tsp. baking soda
1/4 tsp. salt
1 cup fresh or frozen blueberries (do not thaw)


DIRECTIONS:
Heat oven to 375 degrees. Grease bottoms only of 18 muffin cups or line with paper baking cups. In large bowl beat 1/2 cup butter and 1/2 cup brown sugar until fluffy. Add bananas, milk, vanilla and eggs; blend well. Lightly spoon flour into measuring cup; level off. Add 2 cups flour, baking powder, baking soda and salt; stir just until dry ingredients are moistened. Gently stir in the berries. Fill greased muffin cups 3/4 full.

TOPPING:
3 tbsp. flour
2 tbsp. firmly packed brown sugar
1 1/2 tsp. cinnamon
2 tbsp. butter
1/4 cup chopped walnuts

In small bowl combine flour, brown sugar and cinnamon. Using pastry blender or fork, cut in butter until mixture is crumbly. Stir in walnuts. Sprinkle over batter. Bake at 375 degrees for 18 to 23 minutes or until toothpick inserted in center comes out clean. Cool 3 minutes; remove from muffin cups. Makes 18 muffins.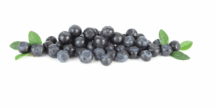 Return to Blueberry Muffin recipe index from Banana Blueberry Streusel Muffin