Basic Blueberry Cheesecake
This basic blueberry cheesecake recipe is easy to prepare and your family will love it.
Graham cracker crumbs (about 16)
1/4 c. sugar
1/2 c. butter, softened
2 eggs
1/2 c. sugar
1 pkg. (8 oz.) cream cheese, softened
1 tsp. vanilla
Cinnamon
1/2 c. sugar
2 tbsp. cornstarch
1 can (15 oz.) blueberries, drained (reserve liquid)
2 tbsp. lemon juice
Sweetened whipped cream


DIRECTIONS:
Heat oven to 300 degrees. Mix crumbs, 1/4 cup sugar and the butter; press firmly and evenly in bottom of ungreased baking pan, 9 x 9 x 2 inches.

Beat eggs until thick and lemon colored; beat in 1/2 cup sugar, the cream cheese and vanilla until smooth. Pour over crumbs mixture. Bake 30 minutes. Sprinkle cinnamon on top; cool.

In saucepan, mix 1/2 cup sugar and the cornstarch. Stir in reserved blueberry liquid and lemon juice. Cook, stirring constantly, until mixture thickens and boils. Boil and stir 1 minute. Remove from heat; stir in blueberries. Cool.

Pour over cream cheese mixture. Chill at least 8 hours. Serve with sweetened whipped cream. 9-12 servings.

Quick Blueberry Cheesecake: Substitute 1 can (21 ounces) blueberry pie filling for the cooked blueberry mixture. Stir 2 tablespoons lemon juice into pie filling.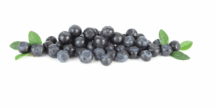 Return to Blueberry Cheesecake Index from Basic Blueberry Cheesecake