Berry Bliss Smoothie
This delicious Berry Bliss Smoothie recipe has been submitted by Marion from Strawberry-Recipes.com. She has a very nice web site with many terrific strawberry recipes.
2 scoops raspberry sherbet
4 strawberries
15 blueberries
5 blackberries
16 oz orange juice
Put berries in a blender and blend until smooth while slowly adding the orange juice. If you want to have your smoothie thicker, add some vanilla ice.
Pour into tall glass and serve chilled.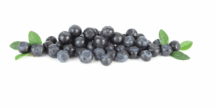 Return to Blueberry Smoothie & Drink recipe index from Berry Bliss Smoothie