Blue Blueberry Muffin Recipe
Blue Blueberry Muffin Recipe - Very blue and very delicious!


1/4 cup butter, softened
2/3 cup sugar
1 teaspoon finely grated lemon peel
1 egg
1/2 teaspoon vanilla
1 1/4 cups blueberries
1 cup plus 2 tbsp cake flour, sifted
1 teaspoon baking powder
1/4 teaspoon salt
1/3 cup milk
1/4 cup chopped pecans, optional


Topping:
1 teaspoon sugar mixed with 1/8 teaspoon ground cinnamon or ground nutmeg

Preheat oven to 375°. In large bowl, cream butter, sugar, and lemon until light, about 4 to 5 minutes. Beat in egg and vanilla. Mash 1/4 cup of the blueberries and beat into batter. Whisk together flour, baking powder and salt.Fold dry ingredients into batter, a little at a time, alternating with milk. Fold in remaining 1 cup berries and pecans Divide into 8 paper lined muffin cups.

Sprinkle each muffin with the sugar and spice mixture. Bake until muffins spring back when lightly touched, about 20 to 25 minutes.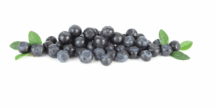 Return to Blueberry Muffin recipe index from Blue Blueberry Muffin Recipe