Decadent Blueberry Almond Coffee Cake
Blueberry Almond Coffee Cake! This recipe is beautiful to look at and delicious to eat.
CAKE INGREDIENTS:
2 cups flour
2 tsp. baking powder
1/4 tsp. salt
1/2 cup butter, softened
1 1/2 cups sugar
2 eggs
1 tsp. almond extract
1/2 cup milk
2 cups blueberries
TOPPING INGREDIENTS:
1 egg white
4 tbs. sugar
1 cup sliced almonds
Preheat oven to 350 degrees and grease a 2 qt. glass baking dish.
Sift flour, baking powder, salt & set aside. Beat butter & sugar until light and fluffy. Beat in eggs & add almond extract. Add flour mixture and milk beating on low speed. Fold in the berries. Spread mixture in baking pan.
Prepare topping; lightly beat egg white and add sugar & almonds, stirring to coat. Spoon mixture over batter and spread evenly.
Bake 45 – 50 minutes. Cool and serve.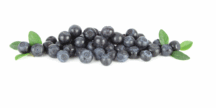 Return to Blueberry Coffee Cake recipe index from Blueberry Almond Coffee Cake