Blueberry Almond Cookies
Kids will love the blue color of these Blueberry Almond Cookies.
1 1/2 cups white sugar
1 cup shortening
2 eggs
1 pint fresh blueberries
1 1/2 cups all-purpose flour
1 1/2 cups whole wheat flour
1 teaspoon salt
1 1/2 teaspoons baking soda
1 cup chopped almonds
DIRECTIONS:
Preheat oven to 350 degrees. Puree blueberries in a food processor or blender. In a medium bowl, cream sugar and shortening together. Beat in eggs, then stir in the blueberry puree. Sift together the all purpose flour, whole wheat flour, baking soda and salt; stir into the blueberry mixture. Finally, stir in the chopped almonds. Drop dough by heaping teaspoons onto the prepared cookie sheets. Bake for 13 to 15 minutes. Cool on the baking sheet or remove to cool on wire racks. Make approximately 4 dozen.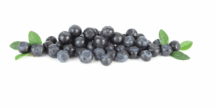 Return to Blueberry Cookie Index from Blueberry Almond Cookies