Blueberry Angel Cheesecake
Blueberry angel cheesecake is so easy and delicious you will want to make it for every special occasion!
1 sm. angel food cake
2 (8 oz.) pkg. cream cheese
1 sm. can evaporated milk
1 can blueberry pie filling
1 c. walnuts, chopped
1 c. sugar
1 lg. container Cool Whip
Layer as follows: Break cake into bite size pieces. Layer in large baking dish. Whip together the cream cheese, milk and sugar. Pour over the cake pieces.
Sprinkle nuts over the cream cheese mixture. Spread blueberry pie filling over this and then top with Cool Whip.
Chill for 2 hours or longer.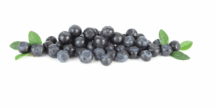 Return to Blueberry Cheesecake index from Blueberry Angel Cheesecake