Moist and Delicious
Blueberry Bran Muffin Recipe
You will enjoy this blueberry bran muffin even more knowing it's lowfat!
1 1/2 cups wheat bran
1 cup nonfat milk
1/2 cup unsweetened applesauce
1 egg
2/3 cup brown sugar
1/2 teaspoon vanilla extract
1/2 cup all-purpose flour
1/2 cup whole wheat flour
1 teaspoon baking soda
1 teaspoon baking powder
1/2 teaspoon salt
1 cup fresh blueberries (or frozen, thawed and drained)

DIRECTIONS:
Preheat oven to 375°. Grease muffin cups or use paper muffin liners. Mix together wheat bran and milk, and let stand for 10 minutes. In a large bowl, mix together applesauce, egg, brown sugar, and vanilla. Beat in bran mixture. Sift together all-purpose flour, whole wheat flour, baking soda, baking powder, and salt. Stir into bran mixture until just blended. Fold in blueberries. Scoop into muffin cups. Bake in preheated oven for 15 to 20 minutes, or until tops spring back when lightly tapped.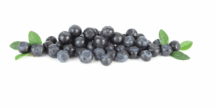 Return from Blueberry Bran Muffin to Blueberry Muffin Recipe Index Page