Blueberry Bran Sunflower Muffins
Delicious and healthy. These Blueberry Bran Sunflower Muffins are a great idea for breakfast.
1 stick unsalted butter, melted
1/2 cup milk
2 lg. eggs, beaten lightly
1 1/2 cup flour
3/4 c. sugar
2 tsp. baking powder
1/4 tsp. salt
1/2 cup Miller's bran
3/4 cup hulled raw sunflower seeds
1 1/2 cup blueberries, fresh or frozen
Stir together the butter, milk and eggs. In separate bowl mix together flour, sugar, baking powder, salt, bran and the sunflower seeds. Add the butter mixture until combined, fold in berries. Divide batter into 12 buttered muffin tins. Bake at 425 degrees for 20 to 25 minutes. Cool. Makes 12 muffins.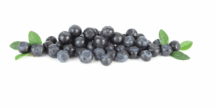 Return to Blueberry Muffin recipe index from Blueberry Bran Sunflower Muffins