Blueberry Buckle Coffee Cake
This blueberry buckle coffee cake recipe is soooo delicious. Make it for a special brunch!
2 cups all-purpose flour
3/4 cup granulated sugar
1/4 cup shortening
3/4 cup milk
2 1/2 teaspoons baking powder
3/4 teaspoon salt
1 egg
2 cups fresh blueberries or frozen and thawed
Crumb topping - recipe follows
Glaze - recipe follows
Heat oven to 375 degrees F. Grease 9-inch round pan or 9-inch square pan.
Mix flour, sugar, shortening, milk, baking powder, salt and egg in large bowl. Beat 30 seconds with spoon. Carefully stir in berries.
Spread batter in 9-inch pan. Sprinkle with crumb topping. Bake 45 to 50 minutes or until wooden pick inserted in center comes out clean. Drizzle with Glaze and serve warm. 8 servings.
Crumb Topping
1/2 cup granulated sugar
1/3 cup all purpose flour
1/2 teaspoon ground cinnamon
1/4 cup margarine or butter, softened
Mix all ingredients until crumbly. Sprinkle over batter.
Glaze
1/2 cup powdered sugar
1/4 teaspoon vanilla extract
1 to 2 teaspoons milk
Mix all ingredients until smooth. Drizzle over warm cake.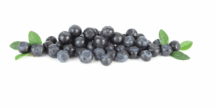 Return to Blueberry Coffee Cake recipe index from Blueberry Buckle Coffee Cake