Blueberry Buttermilk Muffins
Buttermilk gives these Blueberry Buttermilk Muffins the perfect flavor and texture!

2 1/2 cups flour
1 1/2 teaspoons baking powder
1/2 teaspoon soda
3/4 cup sugar
1/4 teaspoon salt
2 eggs, beaten
1 cup buttermilk
4 ounces butter
1 1/2 cups blueberries, fresh or frozen



Sift dry ingredients together in a large bowl. In another bowl, whisk eggs, buttermilk and butter that has been melted and browned slightly. Make a well in dry ingredients and pour in liquid ingredients, mixing quickly. Fold in the berries. Spoon batter into greased muffin cups and bake until golden brown. Bake at 400 F for 20 -30 minutes. Recipe makes 24 blueberry muffins.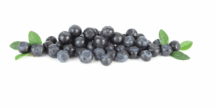 Return to Blueberry Muffin recipe index from Blueberry Buttermilk Muffins