Blueberry Cake Muffin Recipe
This blueberry cake muffin recipe would be great for a birthday party or picnic.
2 cups a/p flour
1 1/2 tsp. baking powder
1/4 tsp. salt
1/2 cup butter
1 c. sugar
2 eggs, unbeaten
1 tsp. vanilla
1/2 cup milk
1 cup blueberries, fresh or frozen

Heat oven to 375 degrees. Grease or line 12 muffin cups. Blend dry ingredients (flour, baking powder and salt) in a medium bowl. In a separate bowl, beat butter with sugar, eggs and vanilla until light and fluffy. Beat together flour and butter mixtures. Add milk gradually and blend in. Gently fold in berries just until combined. Fill muffin cups two thirds full. Bake 20-25 minutes or until golden brown.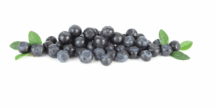 Return to Blueberry Muffin recipe index from Blueberry Cake Muffin recipe