Buttery Blueberry Cake
This blueberry cake recipe is easy to prepare and makes you look like a world renowned pastry chef.
1 Duncan Hines Golden Butter cake mix
Make cake according to box directions (substituting milk for water). Place batter in 3 round pans (to create 3 layers for later). Bake and let cool.
FROSTING:
1 (8 oz.) Cool Whip, thawed
2 (3 oz.) pkg. cream cheese
1 c. powdered sugar
1 can blueberry pie filling
1 tsp. lemon juice
Mix together cream cheese, powdered sugar, and add Cool Whip. Stir lemon juice into the pie filling. Put cream cheese mixture in first cake layer, then put 1/3 of the can of pie filling on cream cheese mixture. Add 2nd layer and repeat. 3rd layer - repeat. And...
Ta da!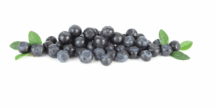 Return to Blueberry Cake recipe index from Buttery Blueberry Cake