Blueberry Cheesecake Parfait
You will enjoy making our Blueberry Cheesecake Parfait and you guests will think you are a master pastry chef!
2 (8 oz.) pkgs. cream cheese, softened
1/3 c. confectioners sugar
1 1/3 c. sour cream
2/3 c. heavy cream
Blueberries (fresh, frozen, or canned)
Mix all ingredients except blueberries in large bowl. Put small amount of blueberries in bottom of fancy glass or goblet. Put dollop of cheesecake mixture on top and then add more blueberries. Alternate until glass is full. Chill and serve.
You can use strawberries instead of blueberries.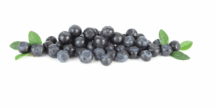 Return to Blueberry Cheesecake index from Blueberry Cheesecake Parfait