Blueberry Cone Cakes - Fun & Easy!
These blueberry cone cakes are a fun recipe for kids parties or picnics.
1/2 cup fresh blueberries (or frozen- thawed,drained)
1/4 cup butter
1 egg
3/4 cup sugar
1/2 tsp. lemon extract
1 cup cake flour
1 tsp. baking powder
1/8 tsp. salt
1/4 cup milk
1 doz. lg. flat bottom cones
1 pkg. white frosting mix
Preheat oven to 350 degrees. Rinse and drain the berries and let dry on paper towel. Cream utter, sugar, egg, lemon extract. Combine cake flour, baking powder, salt. Add to egg and sugar mixture. Mix well. Carefully fold in the berries.
Spoon mixture into cones, set cones into muffin cups or on baking dish. Bake at 350 degrees for 30-35 minutes.
Prepare frosting mix and frost cakes.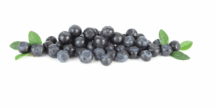 Return to Blueberry Cake recipe index from Blueberry Cone Cakes