Blueberry Corn Pancake
This Blueberry Corn Pancake recipe is great along side a helping of huevos rancheros.
1 1/2 c. polenta or coarse yellow cornmeal
1/4 c. whole wheat flour
1 tsp. baking soda
1/2 tsp. salt
2 tbsp. maple syrup or honey
2 tbsp. vegetable oil
2 c. low-fat buttermilk
1 egg, lightly beaten
About 1 1/2 c. fresh blueberries, cleaned & picked over
Combine the cornmeal, flour, baking soda and salt in a medium-sized bowl. In a small bowl, combine the syrup, oil, buttermilk and egg. Stir well and quickly mix into the dry ingredients. Let stand for 10 minutes to soften the cornmeal. Preheat griddle or large heavy skillet. Lightly grease the hot griddle and pour on the batter, about 1/4 cup for each pancake. Then sprinkle the tops with blueberries and cook until the tops are bubbly. Turn and cook until golden on the other side.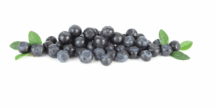 Return to Blueberry Pancake recipe index from Blueberry Corn Pancake