Blueberry Cottage Muffins
Blueberry Cottage Muffins - Cute name, great taste!


1/4 cup low-fat cottage cheese
1 egg
3/4 cup all-purpose flour
1/2 tsp. salt
1 1/4 tsp. baking powder
2 tbsp. granulated sugar or equivalent sugar substitute (optional)
1/3 cup skim milk
1 cup fresh blueberries, washed & picked over
Blend the cottage cheese and egg together with a fork. Add the flour, salt, baking powder and sugar; stir to combine. Add milk and stir lightly, then gently stir in the blueberries. Spoon into 10 muffin cups and bake in a preheated 425 degree oven for 15-18 minutes.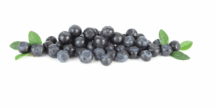 Return to Blueberry Muffin recipe index from Blueberry Cottage Muffins