Blueberry Cream Cheese Muffin Recipe
Blueberry Cream Cheese Muffin Recipe. I love cream cheese and blueberries! What a great combination.
2 cups cake flour
3/4 cup granulated sugar
1-1/2 teaspoon baking powder
1/2 teaspoon baking soda
1 pinch salt
3 ounces cream cheese, cut in cubes
2 teaspoon lemon juice
2 teaspoon vanilla extract
2 eggs
1/4 cup completely melted butter
1/2 cup milk
1 cup blueberries, fresh or frozen
Preheat oven to 350°. Line the cups of a muffin tin with 12 paper liners. Combine flour, sugar, baking powder, soda, and salt in a mixing bowl. Stir well; set aside.
Mix cream cheese, lemon juice, and vanilla until smooth. Add eggs and mix until blended. Stir in hot melted butter and mix until smooth. Mix in milk. Add dry ingredients and stir until all dry is incorporated. Do not over mix. Fold the berries into the batter.
Pour an equal amount of batter into each muffin cup, filling each about 2/3 to 3/4 full. Bake in preheated 350° oven for 30 minutes. Cool on rack 15 minutes. Makes 12 muffins.
Note: For an extra treat, add a small cube of cream cheese to the top of each muffin before baking.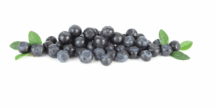 Return to Blueberry Muffin recipe index from Blueberry Cream Cheese Muffin