Blueberry Dump Cake Recipe
Make this blueberry dump cake with your kids for a very fun time. It's called "dump" cake because it looks like a mess while preparing but tastes truly amazing!
2 c. blueberries
Juice of 1/2 lemon (optional)
3/4 c. sugar
3 tbsp. butter
1 c. sifted flour
1 tsp. baking powder
1/4 tsp. salt
1/2 c. milk
1 c. sugar
1 tbsp. cornstarch
1 c. boiling water
Line an 9x13 inch pan with berries. Sprinkle lemon juice over berries. Cream together 3/4 cup sugar and butter with an electric mixer. Sift together flour, baking powder, and salt. Add milk alternately with flour mixture to creamed sugar and butter a little at a time to make the batter. Pour batter over berries.
Combine 1 cup sugar and cornstarch and sprinkle over batter. So far it looks like a standard cake, right. Now for the crazy fun part... pour the 1 cup boiling water over whole cake. This batter barely covers the berries. When the water is poured over batter and berries, the whole thing looks like a total mess! Don't worry - just chuckle and place cake in oven and bake in preheated 375 degree oven for 1 hour. Serve warm!
This recipe is similar to a fruit cobbler and is delicious served with ice cream or whipped cream on top.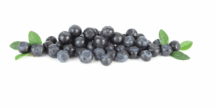 Return to Blueberry Cake recipe index from Blueberry Dump Cake.