Blueberry Honey Coffee Cake
This blueberry honey coffee cake is a sweet as.... well....honey!

Blueberry Topping
2 cup blueberries, fresh or frozen
1 tbsp flour
1/2 cup honey
2 tbsp fresh lemon juice
Blueberry Cake
1 1/2 cup flour
2 tsp baking powder
1/2 tsp baking soda
1/2 tsp salt
1/2 cup honey
2 eggs
1/4 cup plus 1 tbsp milk
2 tbsp lemon juice
2 tsp vanilla
1/4 cup butter, melted
Preheat oven to 350 degrees F. Grease a 9-inch round cake pan. Toss blueberries with flour and place in the botton of the greased pan. Drizzle with the honey and lemon juice. Set aside.
In a small bowl, combine flour, baking powder, baking soda and salt; set aside.
In a medium bowl, combine honey, eggs, milk, lemon juice, and vanilla; whisk together until well combined. Add flour mixture and mix well. Stir in melted butter until combined. Pour batter over blueberries in pan; spread to cover evenly.
Bake at 350°F for 30 to 35 minutes, or until toothpick inserted in center of cake comes out clean. Cool in pan on wire rack 10 minutes.
Invert cake onto large plate; cool slightly. Serve while still warm or cool completely.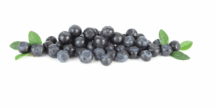 Return to Blueberry Coffee Cake recipe index from Blueberry Honey Coffee Cake