Blueberry Ice Cream Muffin Recipe
Easy to make and delicious to eat! Blueberry Ice Cream Muffin recipe - sure to be a winner!
2 cups self-rising flour
1 egg
2 tablespoons canola oil (or your preference)
2 cups vanilla ice cream, softened
1 cup blueberries


Preheat oven to 425 degrees F. Combine flour, egg, oil and ice cream in bowl; beat until smooth. Stir in blueberries. Fill well-greased muffin cups 3/4 full. Bake for 20 to 25 minutes or until brown. Recipe makes 6 to 8 muffins.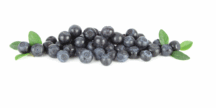 Return to Blueberry Muffin recipe index from Blueberry Ice Cream Muffin