Blueberry Lemon Cookies
Blueberry Lemon Cookies! Lemons and blueberries, the perfect combination.
1 cup fresh blueberries
3/4 cup butter, softened
1/2 cup white sugar
1/2 cup light brown sugar
1 1/2 teaspoon lemon zest
2 eggs
2 cups all-purpose flour
2 teaspoons baking powder
1/4 teaspoon salt
1/2 cup milk
Directions:
Preheat oven to 375ºF. In a large mixing bowl, cream together butter and the sugars; and lemon zest and eggs and beat well. Gradually add in dry ingredients and milk; beat well. Gently fold in the berries. Drop by spoon fulls on lightly greased cookie sheets. Bake at 375ºF for 10 to 12 minutes. Makes 3-4 dozen.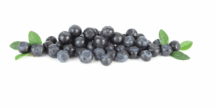 Return to Blueberry Cookie Index from Blueberry Lemon Cookies