Blueberry Lemon Muffin
Wheat germ gives this Blueberry Lemon Muffin Recipe a great texture and taste!
1 cup flour
1/4 cup wheat germ
3 tbsp. sugar
2 tsp. baking powder
1/4 tsp. salt
1/2 cup milk
2 tbsp. vegetable oil
1 egg
1/2 cup fresh or frozen blueberries
TOPPING:
2 tbsp. wheat germ
2 tbsp. sugar
2 tsp. grated lemon rind
Combine flour, wheat germ, sugar, baking powder, and salt in bowl. Stir well. Combine milk, oil and egg in small bowl. Beat well. Add to dry ingredients. Stir just to moisten. Fold in the berries. Fill paper-lined muffin cups full. Make topping: Combine wheat germ, sugar and lemon rind. Sprinkle on top of each muffin. Bake at 425 degrees for 20-25 minutes. Makes 8 muffins.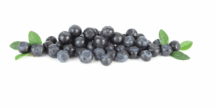 Return to Blueberry Muffin recipe index from Blueberry Lemon Muffin