Extra Special Blueberry Macadamia Cheesecake
Win friends and influence people with this extra special Blueberry Macadamia Cheesecake recipe!
CRUST:
1 (3 1/2 oz.) jar Macadamia nut, ground
1 c. all-purpose flour
1/4 c. brown sugar, firmly packed
1/2 c. sweet butter, softened
Combine all ingredients. Mix well; press onto bottom of a 10-inch spring form pan. Bake in preheated oven at 400 degrees for 10 to 15 minutes. Reduce oven to 350 degrees.
FIRST LAYER:
3 (8 oz.) pkg. cream cheese, softened
1 tsp. vanilla extract
1 c. sugar
4 eggs, room temperature
Crumble cheese in large bowl. Add remaining ingredients; beat at high speed with electric mixer until blended and smooth, approximately 5 minutes. (Food Processor may be used.) Pour over crust. Bake at 350 degrees for 40 minutes until set (not completely firm). Remove from oven; cool for 10 minutes.
SECOND LAYER:
1 c. sour cream
2 tbsp. sugar
1/2 tsp. vanilla extract
Combine sour cream, sugar and vanilla. Spread over top of cheesecake. Bake at 350 degrees for 5 minutes. Cool; spread blueberry topping over. Refrigerate before serving.
TOPPING:
2 c. fresh or frozen blueberries
1 tbsp. cornstarch
2 to 3 tbsp. cold water
Mix cornstarch with cold water to form a smooth paste. Stir in blueberries; cook until thickened. Let cool; spread on cake. Cool 1 hour; then refrigerate. Serves 12.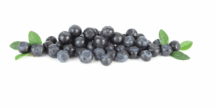 Return to Blueberry Cheesecake index from Blueberry Macadamia Cheesecake