Easy Blueberry Pancake Wedges
Your family will love these easy to make Blueberry Pancake Wedges. Great brunch recipe!
1 c. packaged pancake mix
1 tsp. shredded lemon peel
2 tbsp. butter
1 (16 oz.) can blueberries (reserve syrup or juice)
1/3 c. sugar
1 tbsp. cornstarch
Prepare pancake mix according to package directions. Stir in lemon peel, set aside.
In 10 inch skillet with oven proof handle melt butter, remove from heat. Drain berries, reserving syrup. Spoon berries in bottom of skillet. Carefully pour batter atop. Bake in 400 degree oven 15 to 18 minutes.
Meanwhile, in saucepan, combine sugar and cornstarch. Add reserved syrup; cook and stir until thickened and bubbly. Loosen edge of pancake; invert on serving plate. Cut in wedges; pass syrup. Makes 4 to 6.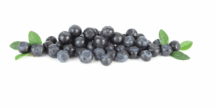 Return to Blueberry Pancake index from Blueberry Pancake Wedges