Grandma's Blueberry Peach Jam Recipe
Grandma's Blueberry Peach Jam Recipe - Blueberries and peaches with a hint of cinnamon - Delicious! You might want to make an extra batch for gift giving.
3 cups fresh blueberries
2 cups fresh peach slices
1 package fruit pectin
1/4 tsp. cinnamon
7 cups sugar


Crush berries and put in a medium saucepan. Cut the peach slices into pieces and grind in a food processor or food mill; add to the berries. Mix fruit pectin and cinnamon into the fruit mixture and cook over high heat until mixture comes to a boil, stirring constantly.

Add sugar all at once, bring to a full boil and boil hard for 1 minute, stirring constantly. Remove from heat. Skim and stir to remove foam. Ladle into hot jars and seal.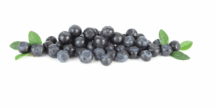 Return to jam and jelly index from Grandma's Blueberry Peach Jam recipe