Blueberry Pumpkin Muffin Recipe
Great combination of flavors - Blueberry Pumpkin Muffin Recipe. The pumpkin makes these muffins deliciously moist!
1 2/3 cup flour
1 tsp. baking soda
1/2 tsp. baking powder
1/2 tsp. salt
1 tsp. cinnamon
1/2 tsp. allspice
1 cup pumpkin, canned or homemade
1/4 cup evaporated milk
1/3 cup shortening
1 c. firmly packed light brown sugar
1 egg
1 tbsp. flour
1 cup blueberries, fresh or frozen, thawed
Combine first 6 ingredients. Combine pumpkin and evaporated milk until blended in separate bowl. Cream shortening and sugar in large mixer bowl. Add egg; beat until mixture is fluffy. Add flour mixture alternately with pumpkin mixture, beating well after each addition.
Combine berries and 1 tablespoon flour. Gently stir into batter. Fill 18 paper lined muffin tins 3/4 full. Bake in moderate oven (350 degrees) for 40 minutes. Test with toothpick to see if done.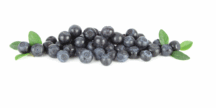 Return to Blueberry Muffin recipe index from Blueberry Pumpkin Muffin Recipe