The Most Delicious Blueberry Scones Recipe
These Blueberry Scones will melt in your mouth!
2 cups all-purpose flour
1/4 cup packed brown sugar
1 tablespoon baking powder
1/4 teaspoon salt
1/4 cup butter, chilled
1 cup fresh blueberries
3/4 cup half-and-half cream
1 egg
DIRECTIONS:
Preheat oven to 375 degrees F (190 degrees C).Cut butter into mixture of flour, sugar, baking powder, and salt. Add berries and toss to mix.
In separate bowl beat together cream and egg, and slowly pour into dry ingredients, stirring until dough forms. Knead just until it comes together, 3 or 4 times. Don't overwork the dough.
Divide dough in half. On lightly floured board, shape each half into a 6-inch round. Cut into 6 wedges. Bake on ungreased sheet about 20 minutes at 375 degrees F (190 degrees C). Serve warm!!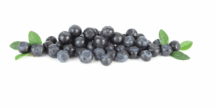 Return to Blueberry Scones & Biscotti from Blueberry Scones Recipe