Blueberry Sour Cream Cake Recipe
Delicious! That describes this Blueberry Sour Cream Cake.
1/2 cup unsalted butter, softened
1 cup sugar
3 eggs
2 cups flour
1/2 teaspoon salt
1 teaspoon baking powder
1 teaspoon baking soda
1 cup sour cream (rgular on no-fat
1 teaspoon vanilla
2 cups blueberries, fresh or frozen
1/2 cup brown sugar
Preheat oven to 325 degrees. Grease and flour 9x13x2 inch pan. Cream butter and sugar. Add eggs, one at a time, beating well after each addition. Mix dry ingredients and add gradually to the egg mixture alternately with sour cream, ending with flour. Stir in vanilla and 1 cup berries. Pour half the batter into the pan. Cover with remaining berries and sprinkle with brown sugar. Add remaining batter. Bake 45-50 minutes. Cool in pan for 15 minutes. Remove to wire rack to cool completely.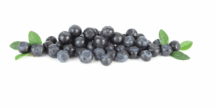 Return to Blueberry Cake Recipes from Blueberry Sour Cream Cake