Blueberry Streusel Coffee Cake
This is an easy blueberry streusel coffee cake. It can be baked in a square or round layer-cake pan.
Topping:
1/2 cup brown sugar
1/4 cup sifted all-purpose flour
1/4 cup butter, room temperature
1 teaspoon cinnamon
Cake:
1 1/2 cups sifted all-purpose flour
2 1/2 teaspoons baking powder
1/2 teaspoon salt
1 egg, beaten
3/4 cup sugar
1/3 cup melted butter
1/2 cup milk
1 teaspoon vanilla extract
1 cup blueberries fresh or frozen
Directions:
Topping - In small mixing bowl, combine topping ingredients. Blend with fork until crumbly. Set aside.
Sift 1 1/2 cups sifted flour with baking powder and salt into a bowl. In a medium bowl, beat together beaten egg and 3/4 cup sugar and 1/3 cup melted butter.Add milk and vanilla. Stir in flour mixture and mix well.
Pour 1/2 the batter into a greased and floured 8-inch square or 9-inch layer-cake pan. Sprinkle with blueberries and top with remaining batter.
Sprinkle topping crumb mixture evenly over batter. Bake at 375° for 25 to 30 minutes, or until cake tests done. Partially cool in pan on wire rack. Cut coffee cake into squares while still warm.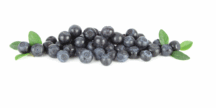 Return to Blueberry Coffee Cake recipe index from Blueberry Streusel Coffee Cake