Blueberry Swirl Cheesecake
Beautiful to look at and delicious to eat. You must try blueberry swirl cheesecake.
PUREE:1 1/2 c. blueberries
1/4 c. sugar
2 tsp. cornstarch
1 tbsp. fresh lemon juice
CRUST:
1 c. graham cracker crumbs
2 tbsp. sugar
2 tbsp. butter, melted
FILLING:
1 (8 oz.) pkg. cream cheese
1 c. sugar 1 container (8 oz.) sour cream
2 tsp. vanilla extract
4 lg. eggs, at room temp.
2 tbsp. flour
BLUEBERRY PUREE: Combine berries, sugar and cornstarch in saucepan. Bring to boil over medium heat and cook, stirring, 5 minutes. Puree in blender with lemon juice. Cool completely.
CRUST: Preheat oven to 350 degrees. Wrap outside of 9-inch springform pan with heavy-duty foil. Combine crumbs, sugar and butter in bowl; mix well. Press evenly into prepared pan and bake 10 minutes. Cool.
Beat cream cheese in mixer bowl until light and fluffy. Gradually add sugar and beat until completely smooth. Beat in sour cream and vanilla. At low speed, beat in eggs one at a time, then flour just until blended. Pour batter over crust.
Place pan in larger baking pan. Carefully drizzle blueberry puree over batter. Swirl knife through batter to marbleize. Place on oven rack. Pour boiling water into larger pan 1 inch up side of springform pan. Bake 1 1/4 hours or until just set. Turn oven off; let stand in oven 1 hour. Remove pan from water bath. Remove foil; cool completely. Cover and refrigerate overnight. Remove sides of pan. Makes 12 servings.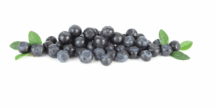 return to Blueberry Cheesecake index from Blueberry Swirl Cheesecake