Blueberry Upside Down Cake
Fun to prepare and delicious to eat - Blueberry Upside Down Cake!
3 c. fresh blueberries (or frozen, thawed & drained)
1 1/2 tbsp. tbsp. lemon juice
3/4 c. sugar
1 1/2 tbsp. corn starch
2-3 tbsp. butter
1 yellow cake mix
Spread berries evenly in bottom of 9 x 13 inch greased cake pan. Sprinkle with lemon juice. Combine sugar and corn starch and pour over berries. Dot with butter.
Top with prepared cake batter. Bake at 350 degrees for 45 minutes or until done. Invert pan before cake gets cool. Serve with ice cream or whipped cream.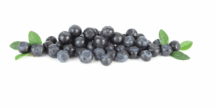 Return to Blueberry Cake Recipes fom Blueberry Upside Down Cake