Blueberry White Chocolate Coffee Cake - Mmmmm...
Wow - Blueberry white chocolate coffee cake. Make your morning extra special.
Ingredients
1-1/2 cups sugar
1/2 cup (1 stick) butter, softened
1/2 cup shortening
1-1/2 tsp baking powder
1 tsp vanilla
1 tsp almond extract
4 eggs
3 cups all-purpose flour
2 cups white chocolate chips
1 can (21 ounces)blueberry pie filling
Glaze:
1 cup powdered sugar
4 ounces cream cheese, at room temperature
1 to 2 Tbsp heavy cream or milk
Instructions:
Heat oven to 350 degrees F. Line jelly roll pan, 15-1/2 x 10-1/2 x 1 inch, with non-stick foil or generously grease the pan.
Beat sugar, margarine, shortening, baking powder, vanilla, almond extract and eggs in large bowl on low speed, scraping bowl constantly. Beat on high speed 3 minutes, scraping bowl occasionally. Stir in flour.
Spread 2/3 of the batter in pan. Sprinkle white chocolate chips evenly over batter. Carefully spoon out and spread blueberry filling over chips. Drop remaining coffeecake batter by tablespoons full onto pie filling.
Bake about 40 to 45 minutes, or until batter begins to turn golden. Let rest about 10 minutes while you make the glaze. Drizzle glaze over warm coffee cake. Serve warm or let stand until cool. Store in a covered container.
For the glaze, mix ingredients until smooth and of drizzling consistency. Use a zip-top baggie with a tiny corner cut off as a container and drizzle a wiggly pattern over the top of the coffeecake. 36 servings.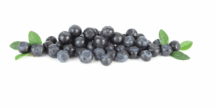 Return to Blueberry Coffee Cake recipe index from Blueberry White Chocolate Coffee Cake