Blueberry Wild Rice Muffin
The best ingredients come from nature! Try this blueberry wild rice muffin recipe.
1 cup cooked wild rice
2 eggs, lightly beaten
5 tbsp. oil
1 cup milk
1 1/4 cup flour
1 tbsp. baking powder
1/2 tsp. salt, optional
3 tbsp. sugar
1 cup blueberries
Sift dry ingredients together. Stir eggs, oil and milk together; add wild rice. Add liquid mixture into the dry mixture; stir well. Carefully add the berries.
Spoon into lightly greased muffin cups. Bake at 425 degrees for 15-18 minutes. Makes 18.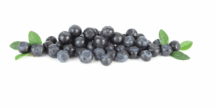 Return to Blueberry Muffin recipe index from Blueberry Wild Rice Muffin