Bubbly Blueberry Coffee Cake
This warm bubbly blueberry coffee cake is just wonderful.
1/2 cup packed light brown sugar
1/2 teaspoon ground cinnamon
1 (16ounce) can Pillsbury Grands refrigerated buttermilk biscuits
1/2 cup butter, melted
1 cup rolled quick-cooking oats
1 1/2 cups blueberries (fresh or frozen)
1/2 cup sugar
Preheat oven to 375 degrees. Generously grease a 9-inch square baking dish. In a small bowl, combine brown sugar and cinnamon and mix well with a fork. Set aside.
Separate biscuit dough into 8 biscuits, and cut each biscuit into quarters. Dip each biscuit piece into the melted butter, then roll in the cinnamon-brown sugar mixture to coat well. Arrange in a single layer in baking dish. Sprinkle with 1/2 cup of the oats.
Combine blueberries and sugar in a bowl and toss to coat.Spoon blueberry-sugar mixture over oats and biscuits and sprinkle with remaining 1/2 cup oats. Drizzle remaining melted butter on top.
Bake for 35 minutes or until cake is golden brown and center is done. Cool for 10 minutes, serve warm. 6-8 servings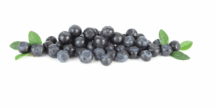 Return to Blueberry Coffee Cake recipe index from Bubbly Blueberry Coffee Cake