Buttermilk Blueberry Pancakes


Make these delicious buttermilk blueberry pancakes for breakfast to guarantee a great start to the day.


2 c. sifted unleavened cake flour
4 tsp. baking powder
1/2 tsp. salt
4 lg. eggs, separated
2 c. buttermilk
4 tbsp. unsalted butter, melted and cooled
1/2 tsp. cream of tartar
2 full c. frozen blueberries
Butter for skillet
In a large bowl, combine flour, baking powder and salt. In a small bowl, beat egg yolks and buttermilk to blend slightly. In another bowl, beat egg whites until foamy, add cream of tartar and beat until stiff peaks forms. Set aside. Add yolk mixture to flour mixture and mix lightly with a fork until flour is moistened then stir in the butter. The batter should be lumpy; over mixing makes tough pancakes. Gently fold in the egg whites.
Preheat griddle and lightly butter before each batch. Pour out batter to make 4 inch rounds and quickly drop 6-8 frozen berries onto each pancake. When underside is golden, flip pancake and cook 30 seconds more. Yield 18 - 4 inch pancakes.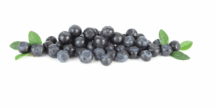 Return to Blueberry Pancake recipe index from Buttermilk Blueberry Pancakes