Cookie Crust Blueberry Pie
This Cookie Crust Blueberry Pie Recipe becomes extra tasty with a vanilla wafer cookie crumb crust!

Cookie Crumb Crust:
2 cups fine vanilla wafer crumbs
1/2 cup melted butter
1/3 cup sugar
Combine all ingredients; press over bottom and up sides of 9-inch pie plate. Bake at 400° for 10 minutes. Cool then fill.
Filling
6 cups fresh blueberries, divided
1/4 cup sugar
2 tablespoons water
2 tablespoons cornstarch
1/4 cup cold water
1 tablespoon butter
1 tablespon lemon juice
whipped cream or purchased whipped topping
Directions:
Combine 2 cups berries, sugar and 2 tablespoons water in large saucepan; bring to a full boil. Dissolve cornstarch in 1/4 cup cold water; add to blueberry mixture. Return to the boil, stirring constantly.
Reduce heat to low and cook, stirring, for 2 minutes. Remove from heat. Stir in butter, lemon juice and remaining 4 cups of blueberries. Spoon into crumb crust. Let stand 3 hours until set. Serve with whipped cream or topping.Serves 8.
Quick tip:
Use a store bought cookie crust in place of the homemade version.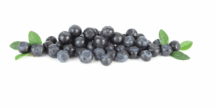 Return to Blueberry Pie index page from Cookie Crust Blueberry Pie recipe