Crock Pot Blueberry Dump Cake
468 x 60 Banner Image
This Crock Pot Blueberry Dump Cake recipe has been submitted by Karen from Homestyle-Recipes. A terrific site focused on providing FREE crock pot recipes and great food ideas to please everyone in your family.
Ingredients:
1 21 oz. can blueberry pie filling
1 package yellow cake mix
1/2 C. butter
1/2 C. chopped walnuts
Directions:
Place pie filling in the slow cooker. Combine dry cake mix and butter, sprinkle over filling. Sprinkle the walnuts on top of that. Cover and cook on low for 2 - 3 hours. Serve warm in bowls.
Serve with whipped cream or vanilla ice cream.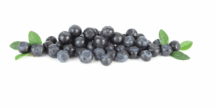 Return to Blueberry Cake index from Crock Pot Blueberry Dump Cake