Easy Dried Blueberry Scones
Keep dried blueberries on hand for this quick brunch recipe - dried blueberry scones.
3/4 cup dried blueberries
1 3/4 cup all-purpose flour
2 1/2 tsp. baking powder
2 Tbsp. sugar
1/2 tsp. salt
1/4 cup butter
2 eggs, beaten
1/3 cup cream
Sugar and cream for topping
Place berries in a small bowl and add enough hot water to cover the berries. Soak for 5 minutes, then drain, pat dry with paper towel and set aside.
Preheat oven to 425 degrees F. In a bowl combine the flour, baking powder, sugar and salt. Cut in the butter with a pastry blender or two knives. Stir in the blueberries. Add the beaten eggs and the cream and stir dough into a ball.
On a lightly floured surface pat out dough into a round about 3/4 inch thick. Slice into wedges and place on a lightly greased cookie sheet. Brush tops with cream and sprinkle with sugar. Bake for 15-20 minutes or until golden brown.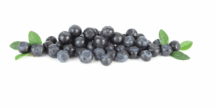 Return to Blueberry Scone & Biscotti recipe index from Dried Blueberry Scones