Easy Blueberry Sour Cream Coffee Cake
I'm sure you will want to add this moist, delicious, and easy blueberry sour cream coffee cake to your collection!
1 pkg. blueberry muffin mix (with canned berries)
1/3 c. dairy sour cream
1/4 c. milk
1 egg
1/2 c. blueberry preserves
GLAZE:
1/2 c. confectioners sugar
2 1/2 tsp. water
Preheat oven to 375 degrees. Grease an 8 or 9 inch round cake or pie pan. Rinse blueberries with cold water and mis with blueberry preserves.
For coffee cake: Combine dry muffin mix, sour cream, milk and egg in bowl. Stir until moistened. Spread half of batter into pan. Spread half of blueberry mixture on top of batter. Spread remaining batter over blueberry layer. Spread remaining fruit on top, avoiding edges. Bake at 375 degrees for 30 to 35 minutes or until golden.
For glaze, combine confectioners sugar and water in small bowl; stir until smooth. Drizzle over hot coffee cake.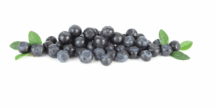 Return to Blueberry Coffee Cake recipe index from Easy Blueberry Sour Cream Coffee Cake